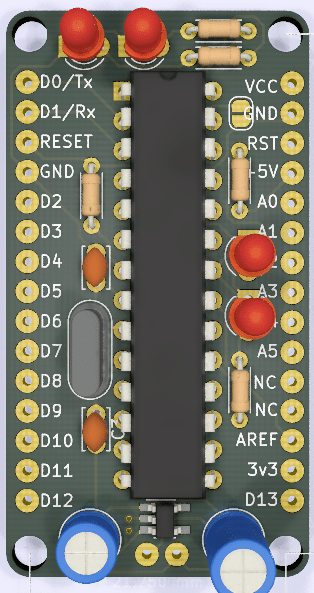 The Fiddleboard is my effort to create a hand solderable Arduino Uno compatible board. It is a work in progress, so stay tuned to this page for updates.
Features:
The Fiddleboard shares the same footprint as the NodeMCU – ESP 8266 Board.
Planned: All components will be through-hole for ease of assembly
Uses the DIP version of the Atmel 328 for easier handling.
The Atmel 328 is socketed for easier Placement/ Removal
Buy your own Boards from OSHPark: https://oshpark.com/shared_projects/TlnNtjCq
This version of the Board is Pre-alpha. I have not even gotten it working yet so stayed tuned. I have assembled on however there are some problems with sizing components and the power regulator.