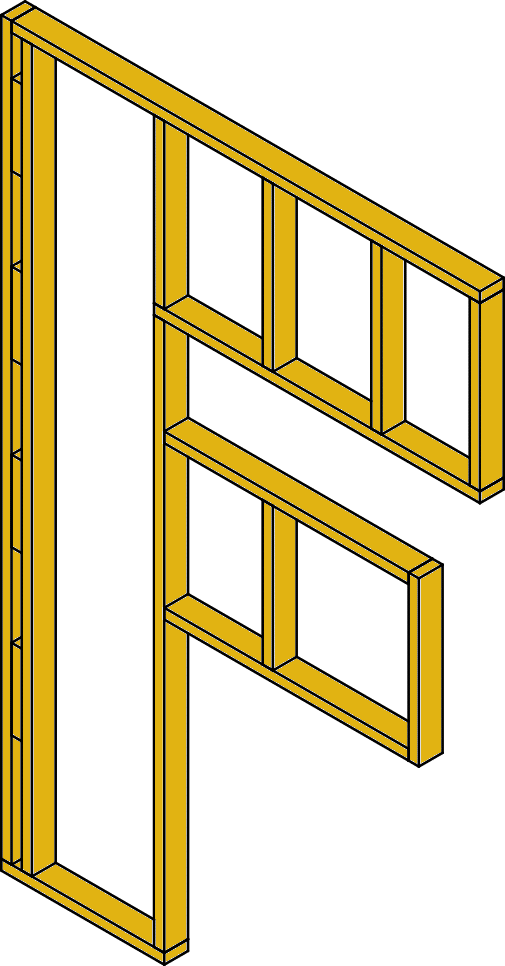 The Framing Workbench is an experimental workbench. The aim is to add functionality to FreeCAD that will enable the creation of a fully modeled U.S style framed structure. Although most members of a framed structure are simple, each have various considerations and roles to play. These are captured by having members that are named and given custom properties.
There are some design goals/requirements that steered choices made.
Individual Elements – No arrays used to create elements
Framing Members have properties to aide in their use and enumeration.
Restrictions on properties should aide, not restrict, the user into easier construction modeling
The Toolbars
Structure
The Structure toolbar groups items that are assemblies of framing members. Structure tool are uniformly colored to demonstrate the predominate role of the structure. Non-structure items are highlighted.
Members
The Member toolbar groups individual framing members. Framing members are shown individually or with their structure and highlighted to demonstrate their role.
Doors and Windows
The Doors and Windows toolbar will group framing members that are specific to doors and windows. It will contain items like Jack Stud, King Stud etc., Currently the header is lonely.
Panels
The panels toolbar will generally contain items that come in 4'x8′ sizes. The have some positioning to aide with initial placement. For example Roof Panels are angled and set to the elevation of the top plates.
The Tools

The set of tools for the Framing Workbench includes common framing member and the correlated structures.
Stud Object
The stud object is a US 2x4x8. The object has custom properties such as length with presets for certain styles of pre-cut lumber. The stud is default placement is 1.5″ from the origin, to allow for a single floor plate.
Plate Object